This item has been added to your favourites list |
View All Favourites
Complete set of Jean Greenhowe booklets
24 new, unused double knitting booklets featuring the whole range of Jean Greenhowe booklets currently in print.
Scarecrow Family
There are seven dolls in the family covering three generations -Grandpa Septimus and Grandma Selina, then Sam and Sally, with their children Sonny and Susie (the twins) and the youngest member of the family, baby Sunshine.
Each doll comes complete with lots of interesting detail and little creatures from nature.The adult dolls average 33cm/13" in height.
Christmas Treasures
Featuring lots of delightful dolls,gifts and decorations, not forgetting Mr Twizzle,Jack Frost and the Christmas Donkey.
Little Dumpling Dolls - The Village Ladies
This booklet features five of the village ladies. Lady Letitia, Mrs Mopitup, Winifred's wool shop, Daphne Dabble the artist and Miss Muffin's Tea Shoppe. Each Little Dumpling doll measures 17cm/6.75" in height.
Bazaar Knits

The designs in this booklet are a pleasure to knit and excellent fund-raisers, as they require only small oddments of double knitting yarn. The Pedlar doll from bygone days captures the theme of the bazaar.

Jemima-Jane and Friends
Featuring Jemima -Jane, an adorable dressing-up doll in the true 'rag doll' tradition.She is 51 cm/20" in height and comes with removable mob cap, two skirts, a popover apron and hair accessories.There is also a charming collection of old-fashioned dolls and teddy bears.
Jiffyknits
This booklet transforms garter stitch strips into exciting creations.From yarn oddments you can make playfood, create seasonal knits for Easter, Christmas and Hallowe'en. Anyone can join in making jiffyknits,so why not share the fun by teaching someone to knit.Whether it be child or adult you will now be able to offer an amazing array of goodies!
Knitted Animals
Appealing, soft and cuddly toys that can be enjoyed by everyone including the Duck family, elephants, mice and Puss in Boots to name a few.
Knitted Clowns
These five splendid figures are 48cm/19" in height and come complete with lots of amusing detail.There's Mr Fortywinks, O Yummy, Godfrey Gadabout, Bertie Bloomer and Sidney Slapstick.
Knitted Hedgehogs
A collection
of eight charming knitted hedgehogs to make as unique keepsake gifts for every occasion.Each character stands 26cm/10.25" in height and comes complete with a gift tag for recording commemorative details such as names and dates, as well as your own good wishes.
Little Gift Dolls
A collection of 18 easy-knit characters designed to appeal to children and adults alike.
There is a doll to suit almost any occasion. Birthday dolls, a Bride and Groom, New-born Baby, a Christmas Tree Fairy, a Hallowe'en Witch, a Tooth Pixie and many more. Each doll measures about 18cm/7" from top to toe, excluding hats and are all based on one simple design.
MacScarecrow Clan
This colourful collection of knitted characters includes Scotty and his wife Morag and their two children -Wee Sproot and Baby Bonnie.The oldest member of the family is Great Uncle Angus with his bagpipes and Big Bobby, the lovable green monster!

Mascot Dolls
This 28 page issue features a splendid collection of mascot dolls, each with a delightful display stand depicting an appropriate little scene. Dolls include a brownie, guide, ballerina, sailor, lifeboatman, policeman, fireman, santa, nurse and footballer. The dolls average 24cm/9.5" in height.

Storybook Dolls
Here is a colourful collection of eight storybook dolls, all irresistibly chubby and measuring 31cm/12.25" in height.The dolls are Robin Hood and Maid Marion, Pirate, Tooth Fairy, Cowboy, Christmas Tree Fairy and Prince and Princess. The dolls are suitable for young children, but with the addition of cardboard soles, they also make delightful ornaments for older children and adults.
Topsy-Turnabout Doll

Here is a wonderful topsy-turnabout doll which can be transformed into four different fairy tale characters. By reversing the doll from back-to-front and turning upside-down, she can be changed from Little Red Riding Hood to Little Miss Muffet, then from Red Riding Hood's Grandma to Old Mother Hubbard.There are numerous charming accessories and items of removable clothing appropriate to each character.The doll measures 28cm/11".
Toy Collection
This booklet contains a splendid variety of toys.Children will love the cute and cuddly bunny rabbit family and the fun-filled prehistoric fantasy of dinosaurs and cave people. For sports fans there is a jolly octopus mascot which can also be made as a teaching toy for a child. Then for the Christmas season there is a colourful collection of tree trims and a pair of chubby little stocking-filler snowball toys.
Traditional Favourites
Featuring Teddy bears, Humpty Dumpties, play dolls, clowns and baby dolls.


Young Alf's Pals
Featuring five characters measuring 39-40cm/15.5-16".There's Young Wilf at the seaside, Young Mabel the rambler, Young Sweetie with her toffee apples and lollipops, Young Elsie with her skipping rope and hobby horse and last but not least Young Ernie and his one-man-band.
Dolly Mixtures
Eight sweet little characters averaging 23cm (9") in height including Princess Penelope with her tiny teddy bear Snuggles, Alfie the Elf, Jake the Pirate, Rosie the Flower Seller, Tom the Snowman with his snowpuppy Toby, Bertie the Clown with his perfoming dog Bob and Annabel and Edward.
Tradesmen Clowns
Do you worry about woodworm and rising damp? Is your electrical wiring as old as the hills? Well now you can forget all your troubles by calling in the Red Nose Tradesmen - namely Twiddle and Fixit, accompanied by Young Alf, the apprentice!
Twiddle and Fixit measure 48cm/19" in height, while Young Alf is a smaller character, measuring over 39cm/15.5" in height.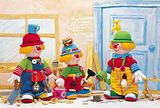 Little Dumpling Dolls - Village Men
New, unused double knitting booklet Jean Greenhowe's Little Dumpling Dolls -Village Men - now back in print. Featuring patterns for five of the village men - Lord Lancelot with his dog, Farmer Woolly with his sheep, Samuel Sprout the Greengrocer, Harold the Handyman and Benjamin Bakewell the Baker. Each Little Dumpling Doll measures approximately 17cm/6.75" high when knitted.
Christmas Special

A super collection of gifts, toys and decorations for the festive season. Projects include Santa and Mrs Claus, Cinderella Topsy-Turvy Doll, Christmas stockings, Mr and Mrs Frosty and a Christmas Crib.
Donut Delights
In this latest Jean Greenhowe publication ' Donut Delights', Jean's vision of a large knitted donut with a sweet little character nestling in the middle developed into an entire donut-themed extravaganza. All the designs are very versatile and can be knitted as keepsakes, for special occasions, for charity fundraising, or simply as charming ornaments.

There are six lovable dolls which fit snugly into the Donuts - baby girl and boy dolls, chef, party girl, snowman and clown. Should you wish to add more commemorative details, these can be written on a cardboard circle glued to the centre of the donut base.
There are also 4 adorable ducklings -prehistoric duckling. cowboy ,pretty Miss Duckling, with a flower-trimmed hat, a tiny purse and ringlets and Christmas duckling with cosy scarf and a tasselled cap.
Then there are the Pop-ups! These little toy baubles will be ever so popular with the children. Pushed into the Donuts, only the caps are visible. Pull them out and the smiley faces are revealed! The Donuts can also be used as containers for children's party treats and for people who knit for charity, the dolls, ducklings and Pop-ups by themselves are perfect knits for fund-raising. The average size of the dolls and ducklings is 12cm [4¾in] in height and the Pop-ups measure just 5cm [2in]. All measurements are without the caps and only small amounts of yarn and stuffing are required. The Donuts measure 13.5cm [5¼in] across the diameter and require about 30g [about 1oz] of yarn, including the icing.
Playful Puppies (20 pages)
Knitters who are familiar with Jean's work are aware that she rarely designs animal creatures as they are in the real world. And here are her latest creations – Playful Puppies. Ten adorable puppy knits, all dressed in fanciful costumes - not realistic, but lots of fun! The basic puppy measures 21cm [8¼ in] in height from the soles of the shoes to top of the head, not including the headwear.

Only 40 grams [1 1/2 ounces] of yarn oddments are required for each puppy and the same amount of stuffing. The heads, hands and ears are knitted in light cream or fawn shades, which complement their colourful outfits perfectly.
All the puppies are constructed in the same basic way. The legs, body and head are knitted in one piece. The shoes and arms are made next then the individual details are added for each character. We have no doubt that knitters will enjoy making Jean's Playful Puppies, just as much as children will love them as playmates.
.